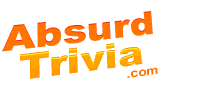 Absurd Trivia - Play a Trivia Quiz
Looking for great trivia quizzes ? Well Absurd Trivia is packed full of them. We have quizzes on all kinds of topics all categorised so the're easy to find. Want to play a quiz on the sitcom "Friends", then just visit our TV Trivia section above and follow the alphabetical links, or for an even easier way, just use our trivia search box on the left of every page.
Absurd Trivia is a community powered site, where all of our trivia quizzes are written and rated by our ever growing population of members. Got an idea for a quiz, then submit it to us and the thousands of trivia fans that visit us daily can play it.
It that's not enough trivia to keep you going you can always check out our Latest Quizzes, for new content added in the last two weeks.
You can even create your own trivia quiz. We've made it as easy as possible to make a quiz. You just need to supply the questions. Click here to get started
Finally, you could test your brain on some of our non-entertainment themed trivia, such as General Knowledge, World Geograpy and Math problems. Click here for our full list of trivia categories